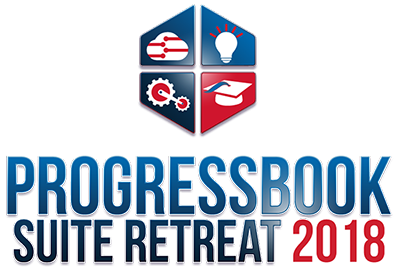 Enhance the Student Learning Experience

April 30th – May 1st, 2018
The Hilton Columbus at Easton
ProgressBook's annual Suite Retreat is BACK and better than ever!
Join us April 30
th

-May 1

st

at the beautiful Hilton Columbus Easton for a two-day conference filled with learning, networking, and professional growth opportunities.
This year's retreat is packed with informative presentations. Here's a preview of what's to come:
Open Educational Resources (OER) Meets VirtualClassroom
Explore and add Open Educational Resources (OERs) to your VirtualClassroom courses. Learn how to plan a lesson or unit in your content area that incorporates a variety of activities to engage your students, and take advantage of the auto-score feature in VC to save you time.
Practice Makes Perfect: Creating State Practice Tests for Grades 4-12
With VirtualClassroom's easy-to-use tools, online testing capability, and auto-score feature for 5 different question types, you can create thorough practice assessments for all your state testing needs.
GradeBook Advanced
Back by popular demand, this presentation covers all of the tips, tricks, and advanced features of GradeBook, featuring our new GradeBook grid!
Bank on It: Creating and Using District Banks
Learn how to create, save, and use bank items in SpecialServices. Districts can generate common and district-specific bank items to be used on a variety of forms, saving their teachers time and energy while improving IEP compliance.
All in the Family: The easy way to make Family Groups in SIS
Creating Family Groups in StudentInformation doesn't need to feel like a chore. Join us in this informative session to learn how you can do it quickly and easily.
With 40+ presentations, two keynote speakers, demonstration areas featuring the latest from ProgressBook (including our new community forum!), a free continental breakfast along with other refreshments, and a goodie bag to take home, you won't want to miss the 2018 ProgressBook Suite Retreat.
Agenda